The Observatory of Cuban Conflict (OCC) recorded 392 public protests in May 2023, a month in which a demonstration by hungry Cubans in the town of Caimanera foreshadowed hundreds of protests against repression, hunger, the deplorable state of the healthcare system, and the diminishing credibility of communist leaders.
The figure surpasses the 370 protests recorded in April by 22. The 392 dissenting demonstrations in May included pot-banging, hacking of official websites, hunger strikes in prisons, transportation strikes, and numerous angry protests by citizens from various sectors, whether on the streets, in writing, through videos and live streams on social media, or in comments on independent and official publications.
May was characterized by an exacerbation of food insecurity, with many Cubans having only one meal a day, parents going without food to feed their children, and elderly and other vulnerable individuals collapsing in the streets. In fact, hunger was the main trigger for the demonstration in Caimanera on May 6. Simultaneously, the number of protests related to public safety significantly increased due to a rise in the use of lethal violence in robberies and assaults. Individual criticisms of the government from various sectors also multiplied.
I- STATISTICAL SUMMARY OF MAY
The 392 protests recorded in May 2023 represent a 107.4% increase compared to those registered in the same month last year (189).
The dissenting expressions compiled by the OCC in the fifth month of this year occurred in all 15 provinces of the island and the special municipality of Isla de la Juventud, unlike April when they took place in 14 out of the 15 provinces and the formerly known Isla de Pinos. The most active territory was La Habana with 162 protests, followed by Holguín with 31, and Guantánamo and Santiago de Cuba, both with 20.
In May, CPR protests, related to civil and political rights, (199, 50.76%) slightly outnumbered ESR protests, based on economic and social rights (193, 49.23%). In April, ESR protests had prevailed (216, 58.4%), while 154, or 41.6%, were claims supported by CPR.
The 199 protests linked to CPR included the protest of individuals on the streets for the freedom of political prisoners and other demands, banners with antigovernment slogans hung in homes or introduced by hackers on official websites, direct questioning of the functionality of the system and the government's capacity and excuses. This occurred in the massive protest in Caimanera, and Cubans from different sectors also did it later on in the month, including a self-employed person, an official journalist, and a communist militant. There were also reactions against repression in all its forms: cruel and inhuman treatment in prisons, arbitrary and violent detentions, personalized internet and mobile phone cuts, fines, threats, and the continuation of the political police's offensive against opposition activists on social media.
The 216 protests related to ESR mainly focused on the exacerbation of the two crises that currently have the greatest impact on the population: high prices and the scarcity and poor quality of food, as well as the dysfunctional public healthcare system. Complaints about the wave of social violence and citizen insecurity also reached an alarming number: at least five people were killed in May by thieves, including three members of a family of four in Cidra, Matanzas province. Other dissenting expressions based on economic rights focused on the critical state of public services such as electricity, water, housing, and transportation. Social problems such as the number of young Afro-descendants begging, the growing number of homeless individuals, and the impact of the crisis on the most vulnerable people were also reflected.
In May, the number of protests related to repression recorded in the OCC log (124) remained the highest among all categories, surpassing the 93 registered in April by 30.
CIVIC ACTIONS
 
II- HIGHLIGHTS OF THE MONTH
A-) Protests Based on Economic and Social Rights
SOCIAL PROBLEMS
It is not very comforting to note that in May 2023, the number of women murdered in Cuba by their partners or ex-partners was limited to 5, compared to 6 in January, 9 in February, 5 in March, and 7 in April. With the deaths of Anay Toya in Güines, Mayabeque; Tomasa Vargas, 60 years old, in Luyanó, Havana; Daniela Thalía Tasse Arias in Bayamo, Granma; Yericel Hernández González in Guantánamo; and Anay Pérez in Guanábana, Matanzas, the femicides in Cuba total 32 so far this year and are approaching the number of 36 recorded throughout 2022 by independent platforms, which continue to demand a Comprehensive Law against Gender Violence in Cuba from the government.
May was also marked by more protests due to the exacerbation of citizen insecurity. "What a diabolical place we are living in!" Cubanet quotes a woman disturbed by the murder and robbery of three members of the Medina family in Cidra, in the municipality of Unión de Reyes, Matanzas. The murderer was a friend of the family's father. At least one other murder with a similar motive occurred during this period: that of the horse-cart driver Tony Díaz Yera from Villa Clara, who was stabbed and his throat slit to steal his cart and horse. After the closure of the April report by the OCC, the Guantanaman radio announcer David Alexis González Joseph was also killed in the same manner for robbery in his own home.
In Havana, two assaults to steal electric motorcycles were reported. One of the victims, the young actor Frank Andrés Mora, complained on Facebook about not seeing a single police patrol during a long nighttime ride through the city. He asked himself, "Do I have to shout obscenities against the Revolution for them to come out?" and added, "How many cases are there in Havana of robberies, violent thefts, at any time and on a daily basis?"
If this happens in cities, in rural areas, cattle theft, theft of draft animals, and crop theft do not give farmers a respite.
Another social problem highlighted in the May protests was "the number of young Afro-descendant individuals of both sexes in conditions of poverty, begging, and servitude," as stated by Juan Antonio Madrazo Luna, coordinator of the Citizens' Committee for Racial Integration (CIR), to Diario de Cuba. According to Madrazo, there are "a large number of young Afro beggars with mental problems rummaging through garbage; young Afro women, even with professional qualifications, cleaning the houses of the newly rich in order to poorly feed their children."
FOOD, INFLATION, AGRICULTURE
Six months after the "Law on Food Sovereignty and Food and Nutritional Security" came into effect, Cuba's Minister of Agriculture, Idael Pérez Brito, acknowledged the difficulties the government faces in guaranteeing food for the population.
According to the FAO, the United Nations Food and Agriculture Organization, skipping a meal indicates moderate food insecurity, while going days without eating indicates severe food insecurity. Many of the protests recorded in May on the island addressed both issues.
"That man is hungry and in need. The government doesn't take care of people like him," shouted a woman pointing to an elderly man who fainted from hunger on Aguilera Street in Holguín. The man hit his head when he fell and later died.
An activist sought help for a mother from Cojímar, Habana del Este, who had gone six days without eating herself in order to give something to her daughter, but the child had already gone two days without food, and the woman had locked herself in her house, apparently willing to let herself die.
Jorge Yanko Heredia Oliveros from Santiago de Cuba wrote on Facebook that he would put his 12-year-old son up for adoption to someone living in a free country because he doesn't want his child to continue suffering because "he doesn't even have breakfast."
"I'm hungry," an elderly woman from the same city can be heard saying in a video posted by the Cuban Observatory of Human Rights as she begs for survival.
Oshuncita Caridad Mendoza, a member of the Facebook group "MADRES CUBANAS POR UN MUNDO MEJOR" (Cuban Mothers for a Better World), shared a photo of a cooking oil bottle on which she wrote a scale with the names of the months from May to September, to determine the appropriate amount to consume each month so that it lasts.
In Sabanilla, Matanzas, a man publicly cried out next to the bust of the national hero Juan Gualberto Gómez, saying that he hadn't eaten anything that day and that he had lost weight from 217 to 139 pounds. He also asked, "Why are we experiencing the hunger we are experiencing? Who should we blame?" and requested to be imprisoned to eat better than at home.
However, "it would seem that finding a solution to this crisis is not a priority," questioned economist Pedro Monreal, who resides on the island, on Twitter, presenting a graph of "recent official data" that "illustrate the profound crisis in Cuba's food industry and the evident inability of economic policy to alleviate, let alone resolve, a food security crisis that seems to have no bottom."
The expert warned that the annual two-thirds drop in retail food sales in 2022 "reveals an important dimension of the brutal adjustment of consumption and aggregate purchasing power in Cuba, with the cost of the adjustment concentrated on workers and retirees." Monreal has previously pointed out that inflation unleashed by the so-called "Ordering Task" is worse in the area of food prices, with an annual increase of 75%. ("Cuba's Communist Paradise never FAILS to FAIL. Today, I measured Cuba's annual inflation at a punishing 86.66%/yr," Johns Hopkins' University economist Steve H. Hanke wrote on his Twitter account on May 28)
As a result, two dozen eggs already cost 1,800 pesos, and a liter of cooking oil between 1,700 and 1,800 pesos, in both cases more than the minimum income of a retiree, which is 1,528 pesos per month, and more than one-third of the average monthly salary of 4,200 pesos. Even humble staples are not spared from this upward spiral. In Santiago de Cuba, also affected by a severe drought, a pound of sweet potato reached 60 pesos, taro reached 90 pesos, pumpkin reached 40 pesos, and the popular plantain (known as "plátano fongo" or "burro") is expected to reach 150 pesos per bunch when available.
"Disastrous economic policies have left the country in ruins. It is no wonder why the communist utopia is the ninth most miserable country in the world," said American economist Hanke about Cuba when he published his Annual Misery Index for 2022 in May (Hanke, by the way, identifies inflation as the main factor of misery in Cuba).
These disastrous economic policies are, for example, the cause of crops never picked up and rotting in the fields while the population experiences moderate to severe food insecurity. In the province of Ciego de Avila, 5,500 tons of spoiled potatoes had to be discarded in May, that's more than 30% of this year's harvest. In Guantanamo meanwhile, four peasants from different municipalities captured images of their abundant mango crops spoiled on the ground for the same reasons.
In May, Cuba's Prime Minister, Manuel Marrero, acknowledged during a visit to Camagüey that the country is facing a food crisis but blamed it on private farmers, which he claimed generates 80% of agricultural production. This is the same private farmers that the government does not allow to set prices for their products, grow what they wish, distribute, sell, and freely export their crops, import inputs and machinery, stop paying taxes for a period of time, or have permanent property titles. These simple measures were requested by independent farmers in 2020 under the campaign "Without the countryside, there is no country" to prevent famine in Cuba. The government ignored them, and three years later, famine is engulfing the island, devouring the most vulnerable people first, with no solution in sight.
PUBLIC HEALTH, MEDICINE, DOCTORS
Public health services, once considered one of the Revolution's showcase achievements, accounted for a high percentage of the protests recorded in May by the Cuban Observatory of Conflicts. Among them, desperate complaints from patients or their relatives stand out, as they are not receiving treatment due to a lack of doctors, supplies, medications, or equipment.
Elaine Descano from Manatí, Las Tunas, a cancer survivor, reported to Cubanet that she requires surgery to close a colostomy that was performed on her five years ago due to a colon ulcer. However, the hospitals in the province do not have the circular mechanical stapler necessary for the operation. As a result, the woman is forced to continue emptying waste into bags that she can only change every five days because they are not available in pharmacies.
Lirenys Gracias Ruiz, a relative of a young man admitted to the "Arnaldo Milián" Provincial Hospital in Santa Clara, denounced on social media that the patient died after six days in the Intensive Care Unit because the hospital did not have the antibiotics he needed, and they were told to find them elsewhere. "It's disrespectful to send you to look for it on the street when the hospital itself claims not to have it," wrote an indignant Lirenys on Facebook.
"This place is more like a dump than a hospital, cockroaches want to carry you away, the bathrooms are embarrassing, the treatment from the laboratory staff is terrible. And why continue, if no matter where you complain, this will continue and get worse," lamented Yendis Martínez Aroche, a pregnant woman admitted to give birth at the Dr. Juan Bruno Zayas General Hospital in Santiago de Cuba on Facebook.
"There is no plaster, no gauze, no adhesive tape, nothing," complained Reynier Nayla Valdés, the father of a child who had foot surgery at the "Juan Manuel Márquez" Pediatric Hospital in Havana and needed his cast replaced. Nayla later wondered, "Are we or are we not a medical power? Whose fault is this? Who cares about what happens to the child of two simple 'assistance recipients'?"
Luis Miguel Rodríguez Álvarez, a 14-year-old boy from Granma, sought help on Twitter because he needs a cornea transplant, but every time he goes to the ophthalmologist, he is sent back home with only eye drops prescribed.
Ernesto Medina Ramírez, a homeless Cuban, suffers from erysipelas on his right leg, an acute febrile infectious disease of the skin caused by streptococcus bacteria. "I can't walk. It suddenly appeared. Insects get into the wound. (…) Every day, the wound gets worse and worse and oozes," says the 62-year-old man. Despite erysipelas being a curable disease, Medina Ramírez's condition has not been treated due to the shortage of medications in Cuba.
According to an official from the state pharmaceutical monopoly BioCubaFarma, there is a significant deficit of cytostatic drugs, which are used to treat cancer. As a result, oncology patients will not have access to important cytostatics "in high demand such as Paclitaxel, Cisplatin, and Oxaliplatin." As usual, the official blamed the United States for these and other medication shortages, despite the embargo allowing Cuba to purchase medications and medical equipment.
"It's hard to believe that, in a medical power, there are no syringes available for blood tests, and you have to buy them outside to bring them in. This is in the municipality of Freire in Holguín, and all the equipment is 'broken,' they say. How much longer will this last, I want to know," denounced Yunior Ramírez, a Holguín resident who, according to his Facebook profile, studied at the University of Medical Sciences in that province.
"I don't understand why there are no ambulances at Calixto García Hospital. I can't understand it. There is only one ambulance, and it's broken, in such a large hospital with so many specialties. There is not a single ambulance," said Yesenia Silva in a live Facebook broadcast. After 25 days in the Gastroenterology ward, her father needed to undergo an examination in another building of that Havana teaching hospital, but there was no ambulance to transport him.
The disastrous conditions of the healthcare system led Cuban Television presenter Laritza Camacho to express her indignation on social media last month: "A nearly two-year-old child cannot undergo a simple hernia operation because there is no way to do it," she denounced.
She also recounted a story of a woman "who was sent home because there is no way to treat her cancer metastasis, which, she said, 'could be fixed with the appropriate treatment.'"
"A doctor, one of those who fills you with pride to the core because of her light, knowledge, and dedication, told me that she hangs up her white coat, that she can't take it anymore, that many are requesting leave," she wrote.
Laritza Camacho ended her post with a message for the officials: "Don't waste another penny on slogans and empty speeches!"
OTHER SERVICES
In the electricity sector, the public service that triggered major protests last year in Cuba the promise made by the government in February to limit power outages to three hours and during off-peak hours was gradually broken in May. While at the end of April there were reports of 20-hour power cuts, and then in early May, following the protest in Caimanera, there was a relative respite, in the second half of the month, intermittent power cuts returned, lasting 6 to 7 hours every day in some areas. On May 25, the Electric Union announced that due to system failures and maintenance, they would have to cut the service during peak nighttime hours.
In terms of fuel supply, several tanker ships arrived at the Matanzas terminal since late April, including one that was announced to have brought 40,000 tons or 290,000 barrels of diesel on May 10. However, this caused controversy because experts realized, based on the draft of the supertanker, that it had sailed empty from Corpus Christi, Texas, to Matanzas. Subsequently, the Calida, with a Maltese flag, left Matanzas with an estimated cargo of 750,000 barrels, which reinforces the suspicion that Cuba could be re-exporting low-quality crude oil received from Venezuela.
The crisis with gasoline shortages that began the previous month continued to deepen and generate protests in May as fuel prices soared from 30 pesos per liter to 800 or 1,000 pesos, and private transportation fares tripled as a result. Since fines are imposed on boteros (private taxi drivers) caught violating the government-imposed price caps, many drivers prefer to sell their liters of fuel because it is more profitable than transporting passengers.
A similar situation occurs with public transportation, with crowded bus stops and few vehicles in operation. At Havana's Villanueva waiting list terminal, many passengers protested, demanding a response from the authorities, as they had been sleeping there for several days without being able to travel to their respective provinces. Videos circulated on social media showed hundreds of people crowded inside the terminal, waiting for a bus to take them to their destination. "We want buses," they shouted from inside the terminal.
Yairán Mesa Viera from Limonar in Matanzas complained on Facebook that his nephews walk seven kilometers to and from their primary school every day because the bus route connecting Limonar with Cárdenas hasn't been running for three months. "Priorities are priorities, first the meetings and agreements, education and the population can keep waiting," wrote Mesa sarcastically.
Other public services that sparked protests in May were the supply of cooking gas, sanitation, and water supply.
As state reserves of liquefied gas depleted, a vital product for cooking during power outages, many Cubans in rural areas have resorted to cooking with firewood and charcoal, according to a report by elTOQUE.
"The salvation for us at home is firewood. We bring it from the countryside, preferably dry marabou wood because it's the best for cooking, and that way we don't bother the neighbors as much with the smoke. It's almost the only alternative within our reach, and we have gotten used to it," explained a resident of Palmira, Cienfuegos, to elTOQUE.
The blog "Desde La Habana" by journalist Iván García quotes Julia, a housewife from the Sevillano neighborhood in the municipality of Diez de Octubre, Havana: "In May, they gave us a small gas cylinder… There are six people living in my house. At most, it lasts for nine or ten days. In the black market, a gas cylinder costs between one thousand and 1,200 pesos, plus the fee charged by the messenger to deliver it. No wallet can bear that."
A breakdown in the street gas plant in Puerto Escondido left Havana residents without the fuel on a Sunday. On Monday, the Manufactured Gas Company announced that partial disruptions would continue in the Plaza de la Revolución, Diez de Octubre, Cerro, Old Havana, and Centro Habana municipalities, while in the Playa and Marianao municipalities, the disruption would be total.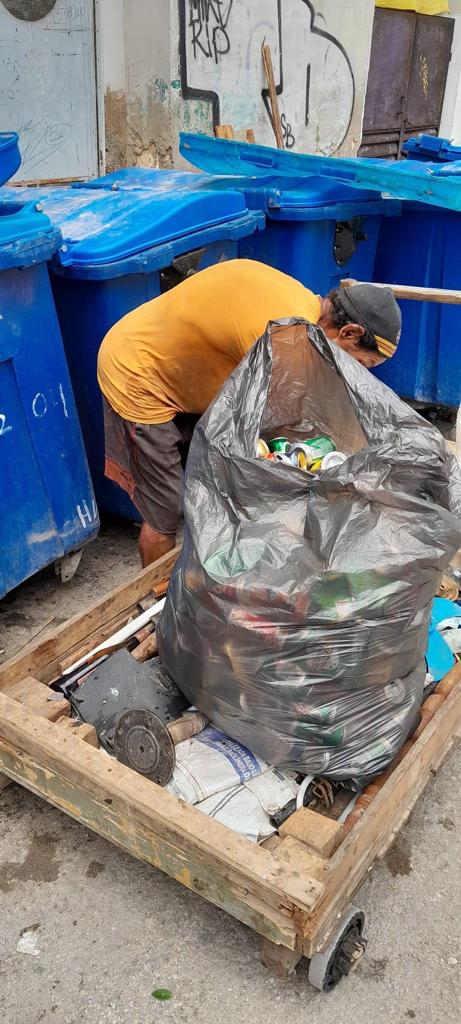 Several users angrily commented on the announcement: "(It's better) if nothing works at all when morning comes," wrote a reader on Facebook, as quoted by the newspaper 14ymedio. "It's better than to endure the repetition, the effort, the visits from this and that well-dressed and rosy-cheeked official, the meetings of the Temporary Working Group, the analyses and strategies, until exhaustion. And once again, the efforts and 'creative resistance.' 'Sell the country now, as we are going to die,' wrote another user.
Opposition member and former political prisoner Silverio Portal exposed in his Facebook profile the immense garbage dumps accumulating in the streets of the Centro Habana municipality. Portal's photos show that no garbage truck has passed through that area for a long time, and residents have to live with mountains of trash.
A video released by Diario de Cuba shows neighbors, fed up with an accumulated landfill on 228th Street between 51st and 61st in La Lisa municipality, deciding to set it on fire, and they vowed to do it again if the waste accumulates without being collected.
14ymedio published a report with photos and videos of a stream of sewage flowing along several blocks of Jovellar Street in Centro Habana, very close to the tourist area of El Vedado.
Problems with the distribution of drinking water continued throughout the island in May, with neighbors forced to collect money to pay for water trucks (cistern trucks) on the black market because weeks would pass without the vital liquid flowing through the pipes.
The center of the city of Camagüey was without water for almost a month, reported activist Leydis Tabares to Radio Televisión Martí.
In Pinar del Río, the Catholic Church distributed plastic containers for storing water amid the shortage, said José Rolando Cásares to the same media. "It's been over a month without water; supposedly, they're saying it's a pumping problem. There are water trucks, but they are not from the state, they are private, and we have to pay them," Cásares stated.
In Centro Habana, human rights defender María López pointed out that they have been without water for up to 11 days. According to López, when she contacts service providers, they don't pay attention to the reports. They say there is no gasoline and that they have to wait. "Cubans act as if we don't exist within the very island where we were born and where we live. It's a critical situation," emphasized López.
HOUSING
The increasingly insoluble problem of housing deficit in Cuba also motivated protests during the period under review:
At the end of April, activist Glenda Rancaño shared several videos captured by residents in a rural settlement in Camino de Guamá, Pinar del Río, as authorities evicted them and demolished their makeshift homes. The footage showed women claiming to have high blood pressure, parents with young children in their arms, and elderly individuals carrying their belongings and moving televisions outdoors. Activist Julio César Góngora told Radio Televisión Martí that several of these families settled there after losing their homes during Hurricane Ian.
In Trinidad, Sancti Spíritus, Rosa Edelis Guerra Rodríguez, from Trinidad, Sancti Spíritus, complained to Diario de Cuba about constant pressure to vacate the abandoned state-owned premises she decided to occupy with her three underage children. The pressure has included cutting off electricity, intimidating people who bring them food, and summoning her to the police station to tell her she must leave or be forcefully removed.
Internet user Saily Aldana denounced on Facebook the conditions in which several families have been living for 20 years in the upper floors of the Cabaiguán library in Sancti Spíritus. "Terrible conditions, years and years waiting for answers and nothing, but of course, none of that matters to those in power," she wrote. Images of the place show poor hygiene conditions, walls and tiles covered in mold, broken windows, tables, and beds, and no visible plumbing for water.
Several Cuban women and their underage children placed their belongings on one lane of the Paseo del Prado in Old Havana, blocking the circulation of vehicles, then they banged their pots to demand shelter because the partial collapse of a building on Prado and Virtudes, where they resided, left them homeless.
The Cuba-based magazine elTOQUE analyzed in a report titled "Hotels or Housing in Cuba?: Even Construction Has Favorites during the Crisis" how the government's Housing Policy ─ the plan that committed to eliminating the housing deficit on the island within a decade by 2018 ─ projected the construction of 48,143 new homes by 2022. In reality, only 20,131 were completed. Official figures from 2021 estimated the deficit at 862,879 housing units, which, based on an average family size of three people, would mean a shortage of housing for 2,588,000 Cubans.
However, elTOQUE contrasts the dwindling number of homes built with the disproportionately large volume of resources dedicated to tourism investments, a sector dominated by the military. The addition of 8,930 new rooms in recent years represented a 13% growth in the island's hotel capacity.
B-) Protests based on Civil and Political Rights
REPRESSION AND CHALLENGES
The Caimanera Uprising
On May 6, earlier in the year than expected, the regime was taken aback by cries of "Freedom" in the streets when hundreds of residents of Caimanera, the Cuban town closest to the US Naval Base in Guantanamo Bay, marched through the streets to the local government headquarters as night fell. The main catalyst for the protest was hunger: "We are marching so they give us food," says a young woman in one of the videos. But the people of Caimanera demanded more than that. In another video, Freddy Sarquiz González, one of the six who would later be detained, confronted an official, angrily exposing the hardships the people are facing and telling him, "We don't want more speeches, we want solutions," while the protesters began chanting "Libertad" and "Patria y Vida".
Repression quickly started: a detachment of the Special Brigade of the Ministry of the Interior or Black Berets ruthlessly charged at the protesters with batons. Relatives of the first five detainees, Yandris Pelier Matos, brothers Felipe Correa Martínez and Luis Miguel Alarcón Martínez, and brothers Rodi and Daniel Álvarez González, told Yeris Curbelo Aguilera, a journalist from the independent group Palenque Visión, about the brutality of the repression: Alarcón Martínez received a kick to the head, his brother Felipe Octavio was beaten all over when he tried to help Luis Miguel, and their sister, Caridad Alarcón Martinez, was slapped. Meanwhile, Pelier Matos, another detainee, had his head split open with batons.
To prevent a similar contagion to the one that spread across the country a popular uprising in San Antonio de los Baños on July 11, 2021 (11J), the government cut off internet service on the island and distorted the facts: officials from the Communist Party and the Assembly of People's Power in Caimanera spread the version that everything was calm and that what had happened was that "three citizens disrupted public order under the influence of alcohol and received the response from the authorities and the population." The lie sparked outrage and mockery on social media, as had happened earlier in the month with the excuse that the traditional May 1st parade was canceled due to bad weather instead of the fuel crisis.
The five young people initially detained and later Freddy Sarquiz were transferred to MININT Operations in Guantanamo, the provincial capital, and it was expected that they would be quickly tried for public disorder, one of the criminal charges applied to hundreds of protesters from 11J.
The popular demonstration in early May in the isolated Caimanera is seen as a prelude to what we may see in the coming months in other parts of Cuba. Cutting off the internet will not be enough if the perfect storm of hunger, blackouts, and despair forms during the summer months.
Repression of Political Prisoners and Their Families
Repression continued in May in prisons against political prisoners and harassment in the streets against their families:
Ania Zamora Carmenate, a member of the Ladies in White and mother of 11J political prisoner Sissi Abascal Zamora, was detained in Havana and later threatened that her daughter would "suffer the consequences of her actions" and that "anything could happen to her in prison." "They don't want me to publish anything," Zamora denounced. Later, she was left at night on a desolate road more than 150 kilometers from the city of Cárdenas, in the province of Matanzas, where she resides.
Cuban intellectual Jorge Fernández Era denounced the decision of State Security to retaliate against his son, who is imprisoned for a common crime, in an attempt to silence the voice of the writer and dissident journalist.
Activist Bárbara Farrat Guillén, mother of political prisoner Jonathan Torres Farrat, was warned by State Security agent Yoel Argüelles, AKA Dennis, that she could not leave her house on May 19 and 20.
After demonstrating in the courtyard of Quivicán prison in Mayabeque, political prisoner Roberto Pérez Fonseca received a written threat saying: "Roberto, if you continue with this, we will make sure thatsomething happens to you inside the prison."
After attempting suicide at the Quivicán prison, 11J political prisoner and psychiatric patient Abel Lázaro Machado Conde spent the whole night handcuffed with "shakiras" on his hands and feet, a form of torture, his mother Beatriz Conde Mesa denounced.
After receiving a call from an officer informing them that they could visit him, the family of José Daniel Ferrer García, leader of the Patriotic Union of Cuba, was denied a visit at Mar Verde prison in Santiago de Cuba. The last time they had personal contact with him was on March 11.
11J political prisoner José Luis Boada Valdés painted the phrase 'Patria, vida y libertad' (Homeland, life, and freedom) on a T-shirt and walked out of the company. He was immediately sent to a punishment cell where he remained for six days without eating.
Virginia Téllez Reinosa, sister of 11J political prisoner Heriberto Téllez Reinosa in Guantánamo, denounced that her brother is not being given the necessary medications to survive in the HIV-AIDS prison facility of El Caguayo, in Santiago de Cuba.
The six young people detained for the protest on May 6 in Caimanera, held in the Unit for Crimes against State Security in Guantánamo, could be charged with resistance, assault, property damage, as well as public disorder, according to the case instructor's statement to their relatives.
Repression in the Streets
At the end of May, the regime tightened its grip on freedom of expression in Cuba when the National Assembly unanimously approved the Law on Social Communication in Cuba, which maintains state control over the media, regulates content, and disregards independent press. The law prohibits the dissemination, both in the media and in cyberspace, of information that may "destabilize the socialist state." Ruler Miguel Díaz-Canel stated that the law has a "preventive approach to subversion."
It was revealed in May that in a sort of personalized censorship, the Cuban state monopoly of telecommunications, Etecsa, has been individually cutting off mobile phone and internet services when independent journalists or activists speak out too much online. Norges Rodríguez, founder of the magazine YucaByte, told the US media outlet Coda that this practice has intensified since 11J.
Madelyn Sardiñas Padrón was threatened with being charged with incitement to commit a crime for replicating in Ignacio Agramonte Park in Camagüey the solitary protests in support of freedom of expression that historian Alina Bárbara López Hernández held in Liberty Park in Matanzas.
LGBTIQ+ activists denounced that State Security prevented them from leaving their homes on May 14 andattend the Conga against homophobia and transphobia, organized by the government-affiliated National Center for Sex Education and its director, Mariela Castro.
Journalist and collaborator of DIARIO DE CUBA, José Luis Tan Estrada, was arrested by State Security in Camagüey, labeled a mercenary, and threatened with imprisonment for incitement to commit a crime.
Challenges to Repression
While the political police continue its tactics of threats, immobilization, harassment, violence, and imprisonment against dissenting Cubans, the number of those who dare to defy the regime increases with each passing month, either in person or through social media. May was no exception:
Hundreds of residents of Caimanera marched on May 6 to the local government headquarters, demanding freedom, chanting for human rights, and calling for solutions to their problems instead of empty speeches.
Independent journalist Yeris Curbelo Aguilera, from the independent audiovisual group Palenque Visión, quickly interviewed relatives of those detained in Caimanera, who identified them and exposed the brutality of the repression by the Black Berets of the Ministry of the Interior.
Residents of the Isleta neighborhood in Guantánamo protested loudly against the police's excessive use of force while detaining a citizen identified as Pocho, who was trying to prevent them from taking his detained son. "They hit Pocho for no reason, damn it. They beat him for no reason," a man can be heard saying in a video of the incident. "They are abusers," says another.
Havana families left homeless after a collapse in Prado and Virtudes blocked a path on the busy Paseo del Prado in Old Havana with their belongings and accompanied their protest with the sound of banging pots and pans, demanding shelter.
A young man standing on the corner of Municipio and Atarés in front of the Identity Card offices in the Diez de Octubre municipality shouted that there is no oil, no food, and no diapers. The man held a Bible in his hand and urged those waiting in line to turn to the Lord.
Cuban academics Alina Bárbara López Hernández and René Fidel González García expressed on social media their rejection of the violence exercised by the regime's special troops against peaceful protesters in the Caimanera protest. "Do not repeat what happened on 11J 2021 (…) deterioration and desperation have surpassed all limits and are much greater," wrote Dr. López on Facebook.
A Cuban grandmother from Bauta, Artemisa province, shared photos on the "Cuban Mothers for a Better World" Facebook profile showing the minimal portion of chicken her granddaughter received through the ration book. "Bauta. Draw your own conclusions, this is my granddaughter's chicken for the month. It's a disgrace. It should be 12 ounces [they barely gave her 9 and a half]. I can't take it anymore…" the woman wrote.
Yesenia Silva denounced on a Facebook livestream that there are no ambulances at Calixto García Hospital, one of the most important hospitals in Havana, and questioned how much longer the people have to endure this.
Lorenzo Hurtado Olivera, a young man from Camajuaní, Villa Clara, displayed an anti-Castro banner on the façade of his home for four days. He was later arrested and taken to the State Security Operations facility in Santa Clara.
A group identified as @FailSistem hacked the websites of the Grand Hotel Manzana Kempinski and the Hotel Nacional de Cuba. During the hacking of the Kempinski site, a banner was displayed with the hashtags "#CubaDeLuto" and "#LosMambises," along with the flags of Cuba and Venezuela. On the Hotel Nacional's website, the message "#DontTravelToCuba" was displayed.
Crew members of the passenger train that covers the route between Havana and Artemisa canceled the service on May 9 after allegedly going on strike due to delays in receiving their salaries.
A shirtless man in Holguín, with the phrase "Freedom, Homeland, and Life" written in red letters on his chest, walked through the city center demanding, "Freedom for those unjustly detained for telling the truth! Freedom for all women imprisoned in Cuba! Homeland and Life!"
Self-employed worker Alexis González launched a Facebook live attacking the regime: "Nobody believes your lies anymore," he said. "You have governed with lies and fear. They feed you lies, and when you don't believe them, they use fear tactics and make you disappear. Make me disappear. Cuba is free, and I am free too," he concluded.
In Sabanilla, Matanzas, a man publicly pleaded next to the bust of national hero Juan Gualberto Gómez that he hadn't eaten anything that day and that he had gone from weighing 217 pounds to 139. He also asked, "Why are we experiencing the hunger we are going through? Who are we going to blame?"
A group of young people from the Boyeros municipality in Havana, calling themselves "Las 7 Voces," popularized a parody on YouTube of Michael Jackson and Lionel Richie's song "We Are the World," in which they summarize the hardships and repression that Cubans face today: "There's no rice or ground beef anymore, the power goes out and the gas doesn't come, so how do I cook? And the snitch is watching me…"
A young communist Cuban, identified on Facebook as Mexi Savile Oronite, expressed her opinion that Cuba has only regressed during Miguel Díaz-Canel's government. Savile mentioned that her mother is sick, and there is no hygiene, medication, or ambulance in the hospital. She added that she doesn't understand how Díaz-Canel was reelected.
Laritza Camacho, a presenter on Cuban Television, vented her indignation on social media about the disastrous state of the public healthcare system. Mentioning a delayed operation for a child and the eviction of a woman with cancer, both due to lack of resources, Camacho concluded her Facebook post addressing officials: "Don't waste another penny on slogans and empty speeches!"
III- POINTS TO CONSIDER FOR THE IMMEDIATE FUTURE
Cubans excluded from the less than 1% of the population that constitutes the power elite, especially those who do not receive remittances, are experiencing moderate (skipping a meal) to severe (days without eating) food insecurity due to insufficient food supplies and unaffordable prices. These issues stem from the government's unwillingness to remove barriers for farmers, the high inflation of 75% imposed on foodstuffsby the reckless Economic Reordering Task, and the disproportionate concentration of limited financial resources in the construction of hotels with less than 50% occupancy, controlled by the military-business conglomerate GAESA.
Hunger was the main catalyst for the popular demonstration on May 6 in Caimanera, and it was also the motivation behind numerous individual protests throughout the month. Other protests focused on public health or government incapacity. In the upcoming summer, the food crisis could worsen, which, combined with even longer power outages than the current ones, given the increased demand and the dilapidated state of the National Electric System would be like combining the elements of a binary bomb in the already boiling Cuban social cauldron.
It is noteworthy that several of the numerous individual protests recorded in May by the OCC (Cuban Observatory of Conflicts) came from sectors that had previously remained on the sidelines (communist militants, official journalists, self-employed workers), revealing a deepening of the cracks in the supposed revolutionary unanimity.
The nominal government of the country led by Miguel Díaz-Canel —the real power lies within the military-hereditary caste— now limits itself to acknowledging, with little sugarcoating, the disastrous results of its management, blaming the US embargo for them, confessing without a hint of resignation or real change that it does not know how to overcome any aspect of the crisis, and calling on the population to continue resisting, now "creatively." Díaz-Canel recently admitted "public opinions that reflect dissatisfaction with what we do and have done, with the measures and their implementation." It has long been evident to Cubans that the government plans aimed at solving their growing hardships are more of the same: work groups, analyses, strategies, all based on outdated premises of the same failed state-communist system. This doctrinal immobility continues to undermine the government's credibility, with its governance, as seen in Caimanera, increasingly relying on pure and harsh repression.
Efforts to seek a new patron in Putin's discredited Russia have not been well received by a skeptical population, not only due to the "unconditional" support for the Russian Goliath in its aggression against the Ukrainian David but also due to the prostituted surrender of Cuba's sovereignty to Moscow (Part Two).
This includes adapting Cuban laws to Russia's whims, accepting Russian investments in Cuban micro, small, and medium-sized enterprises (MSMEs), granting land leases for three decades, intertwining Russian and Cuban banking systems, and providing generous tax exemptions not granted to nationals.
The signed agreements are presented to Cubans as a hope for improvement in their daily lives. However, as journalist Yoani Sánchez wrote in 14ymedio, Putin is only interested in Cuba because it is 90 miles away from the United States, its archenemy, and located in Latin America, a region where he wants to have significant influence. In any case, as predicted by the new think tank Cuba Siglo 21, it would be presented as an opening in Cuba but would actually transition to a mafia state with market elements like Putin's. Sánchez describes it as follows: "They will bring us, yes (…) the ability for dark agents of the political police to amass an empire, for the big fish of the Party to seize the most appetizing industries, and for the money from the liquidation of public properties to end up, mostly, in the pockets of ideological comrades who will exchange their military uniforms for the elegant attire of the oligarchs."
During his visit to Cuba in late May, European Union Foreign Minister Josep Borrell demonstrated how little he cared that his counterparts on the island represented a brutal dictatorship with around 1,200 political prisoners. Borrell has been temporarily implementing the Political Dialogue and Cooperation Agreement (PDCA) between the European Union and Cuba for years, despite the fact that it should be ratified by the parliaments of the 27 EU member states, and Lithuania has not done so. Thus, the EU has transferred millions of euros to supposed independent institutions in Cuba, such as the "Marta Abreu" Central University of Villa Clara, one of the most repressive in the country. Borrell faces strong moral opposition to his stance on Cuba in the European Parliament, but it will be difficult to initiate a review of the PDCA and its illegaltemporary application, although Sweden suggested it in May considering that everything coming from Cuba lately is negative.
During his stay, the EU official disregarded the calls from numerous organizations to intercede for Cuba'spolitical prisoners and focused on new small and medium-sized enterprises, which, unlike harassed microenterprises, are often managed by former members of the Armed Forces, Ministry of the Interior, Directory of Intelligence, Ministry of Foreign Affairs, or former Communist Party leaders. "We hope that they manage to consolidate and continue contributing in that way to Cuba's economic modernization. The EU is committed to continuing to support them," stated the head of European diplomacy. Havana is offering these supposedly independent ventures to the highest bidder. These companies can have foreign partners, so they could become domestic suppliers for hotels built by GAESA and managed by large hotel chains like Spanish companies Meliá and Iberostar. The Russian market has already been offered these MSMEs, and American entrepreneurs promoting business with Cuba have previously traveled to the island with the consent of the Department of State to show interest in them. All of this aligns with the controlled transition to a mafia state with a market predicted by Cuba Siglo 21.
The new Law on Social Communication, approved in May and pre-emptively anti-subversive according to Díaz-Canel, complements the closing of gaps in freedom of expression that had already been occurring with the enactment of the Penal Code in December 2022, which was approved without public According to the new legislation, content, both in the media and in cyberspace, cannot "subvert the constitutional order and destabilize the socialist state of law and social justice" or support "the communication aggression developed against the country." Additionally, it only legalizes media outlets linked to the State or the Communist Party. The vague definitions of "subvert" and "destabilize" would allow the government to penalize articles from independent press, comments and denunciations on the state of health or food that Cubans often vent on social media, or even a simple "like," according to independent journalist Yoani Sánchez. Although she believes the government will not be able to achieve total closure because "the Cuban audience has already advanced with new technologies," she admits that "there is a danger."
While the government continues to blame the US embargo for the multilateral crisis afflicting the country and the social discontent, Cubans are increasingly convinced that the responsibility lies not with the United States but with the selfish and intolerant power elite. During the discussion between protesters in Caimanera and local officials, one of them can be heard responding to the blockade argument: "There is no blockade at all." As noted by American economist Steve Hanke when presenting his Misery Index in the World 2022, where Cuba ranked as the ninth most miserable country in the world, it is "disastrous economic policies" that "have left the country in ruins."
Interviewed by Radio Televisión Martí, independent journalist and founding member of the Ladies in White Miriam Leiva said: "There is simply an extraordinary social ferment, and it does not come from anywhere, neither from abroad nor from any counterrevolution, it is just the feeling of the people. There are many needs, many deficiencies, and above all, there is no way out. The government continues with the same slogans, and all it does is recycle all the plans it has had until now, without any change."
"It is a general social feeling in the country, and as long as the government has everything tied up, this will not begin to be solved. They remain firmly stuck to a totalitarian regime that they want to maintain more and more," the veteran journalist concluded.
SOCIAL PROBLEMS
https://www.radiotelevisionmarti.com/a/359015.html
https://diariodecuba.com/derechos-humanos/1683719906_47004.html
https://www.cibercuba.com/noticias/2023-05-12-u1-e199894-s27061-piden-ayuda-localizar-familiares-hombre-murio-calle-pinar-rio
https://www.facebook.com/photo?fbid=952908589283086&set=a.108151457092141
https://www.cibercuba.com/noticias/2023-05-24-u1-e129488-s27061-detienen-sospechosos-asesinato-santa-clara
https://www.cibercuba.com/noticias/2023-04-27-u1-e129488-s27061-asesinan-locutor-cubano-guantanamo
https://www.martinoticias.com/a/asesinato-de-una-familia-conmociona-a-peque%C3%B1o-pueblo-de-matanzas/359788.html
https://www.facebook.com/permalink.php?story_fbid=3353779768268713&id=100009101679363
https://www.cibercuba.com/noticias/2023-05-26-u1-e129488-s27061-reportan-asesinato-mujer-60-anos-manos-pareja-habana?utm_source=OneS&utm_campaign=OneS_Auto&utm_medium=push
Maestra es asesinada en la escuela donde trabajaba: feminicidio número 30 en Cuba
Nuevo asesinato ocurrido en Guantánamo, de acuerdo con reportes en redes sociales de amigos y familiares. La víctima fue Yericel Hernandez González a quien su esposo presuntamente asesinó y luego se entregó a la policía. pic.twitter.com/9eLCYdR0H5

— Maydel Poyato (@maydel_poyato) May 26, 2023
https://www.14ymedio.com/cuba/nuevos-feminicidios-elevan-registrados-Cuba_0_3539046074.html
FOOD, INFLATION, AGRICULTURE
https://www.radiotelevisionmarti.com/a/las-cifras-del-hambre-en-cuba-afloran-en-medio-de-reportes-estad%C3%ADsticos-oficiales/358342.html
https://diariodecuba.com/cuba/1682716770_46809.html
https://noticias.cubitanow.com/desgarrador-piden-ayuda-para-una-madre-cubana-que-lleva-seis-das-sin-dar-comida-a-su-hija
https://www.radiotelevisionmarti.com/a/agricultores-advierten-mayor-crisis-de-abastecimiento-ante-desplome-de-campa%C3%B1a-de-primavera-por-falta-de-combustible/359098.html
https://noticias.cubitanow.com/padre-cubano-ofrece-a-su-hijo-en-adopcin-a-alguien-que-viva-en-un-pas-libre-quiero-que-mi-nio-no-sufra-ms
https://www.periodicocubano.com/fallece-anciano-que-se-desmayo-por-hambre-en-una-calle-de-holguin/
https://www.periodicocubano.com/manuel-marrero-admite-crisis-alimentaria-en-cuba-y-culpa-a-la-gestion-privada-por-no-satisfacer-la-demanda/
http://cuba-economia.blogspot.com/2023/05/la-inflacion-en-abril-que-no-cesa.html
https://www.facebook.com/100035157011146/videos/936590370916032
https://www.cibercuba.com/noticias/2023-05-18-u1-e199894-s27061-anciana-pide-limosna-calle-santiago-cuba-tengo-hambre
https://www.cibercuba.com/noticias/2023-05-24-u1-e199894-s27061-5500-toneladas-papas-pudren-ciego-avila-pese-crisis
https://www.periodicocubano.com/gobierno-sube-precio-topado-del-arroz-a-150-cup-la-libra/
https://diariodecuba.com/economia/1684994583_47382.html Hanke y precios informal
https://diariodecuba.com/economia/1685017056_47392.html
PUBLIC HEALTH
https://www.radiotelevisionmarti.com/a/la-salud-p%C3%BAblica-en-cuba-est%C3%A1-en-crisis-y-no-se-avizora-una-mejor%C3%ADa-reconoce-el-gobierno/358961.html
https://www.cibercuba.com/noticias/2023-04-26-u1-e199894-s27061-sutura-pediatrico-habana-tratar-nino-fractura-mandibula
https://www.cibercuba.com/noticias/2023-04-30-u1-e208227-s27061-cubana-sobreviviente-tres-veces-al-cancer-riesgo-falta
https://diariodecuba.com/cuba/1683029055_46864.html
https://www.facebook.com/laritza.camacho.351/posts/pfbid027fdvbKGUXweMQ68oVtxyxZGfQdbhpG6kWtrbsehGqqFXheJWTpRfc4bLnjd6s886l
https://www.cibercuba.com/noticias/2023-05-04-u1-e199370-s27061-cubana-estalla-falta-ambulancias-hospital-habana-cuando
https://www.cibercuba.com/noticias/2023-05-11-u1-e199370-s27061-muere-joven-necesitaba-medicamento-hospital-santa-clara-falta?utm_source=OneS&utm_campaign=OneS_Auto&utm_medium=push
https://www.cibercuba.com/noticias/2023-05-20-u1-e199894-s27061-hospital-yeso-ni-esparadrapo-atender-nino-cinco-anos-habana
https://www.cibercuba.com/noticias/2023-05-04-u191143-e191143-s27061-rebelion-medicos-cubanos-alquilados-paises-extranjeros
Esto es desgarrador, Luis Miguel Rodríguez Álvarez, de 14 años es residente en Granma. Según denuncian, pudiera perder uno de sus ojos ante la indolencia del régimen. Su pecado: No es pariente o conocido de ningún mandamás cubano en la potencia médica @TheFHRC @MarioJPenton pic.twitter.com/fjQ6SgU8Ie

— Observatorio Cubano de Conflictos (@conflictoscuba) May 16, 2023
https://www.cibercuba.com/noticias/2023-05-05-u1-e43231-s27061-embarazada-hospital-santiago-cuba-cucarachas-te-quieren-llevar
OTHER SERVICES
https://www.cibercuba.com/noticias/2023-04-28-u1-e199370-s27061-union-electrica-cuba-reporta-apagones-20-horas
https://www.cibercuba.com/noticias/2023-04-30-u1-e208227-s27061-200-averias-redes-electricas-habana-deterioro-clima
https://www.martinoticias.com/a/por-las-tuber%C3%ADas-aqu%C3%AD-no-llega-el-servicio-casi-inexistente-del-agua-potable-en-cuba/358023.html
https://eltoque.com/crisis-de-gas-licuado-en-cuba-de-vuelta-al-carbon-y-la-lena
https://www.cibercuba.com/noticias/2023-05-11-u1-e208574-s27061-llega-buque-40-mil-toneladas-diesel-puerto-matanzas?utm_source=OneS&utm_campaign=OneS_Auto&utm_medium=push
https://www.14ymedio.com/cuba/averia-Puerto-Escondido-Habana-suministro_0_3536646303.html
https://www.cibercuba.com/noticias/2023-05-25-u1-e43231-s27061-union-electrica-cuba-pronostica-apagones-nocturnos-deficit
https://diariodecuba.com/economia/1684180136_47166.html
https://www.radiotelevisionmarti.com/a/audiovisuales-marti-info-mart%C3%AD-la-habana-un-gran-basurero/358653.html
https://www.14ymedio.com/cuba/lectores-reprochan-Gobierno-protesta-Caimanera_0_3528247143.html
https://www.radiotelevisionmarti.com/a/en-cuba-se-profundiza-crisis-del-transporte-algunos-choferes-prefieren-revender-que-utilizar-la-gasolina/359359.html
https://www.martinoticias.com/a/apagones-falta-de-combustible-de-comida-y-ahora-crisis-con-el-agua-potable-en-cuba/359859.html
https://www.cibercuba.com/noticias/2023-05-19-u1-e43231-s27061-ninos-caminan-14-kilometros-asistir-escuela-primaria-matanzas
HOUSING
https://www.cibercuba.com/noticias/2023-04-27-u1-e199894-s27061-policia-desaloja-comunidad-rural-pinar-rio
https://eltoque.com/hoteles-o-viviendas-en-cuba-en-crisis-incluso-la-construccion-tiene-favoritos
https://diariodecuba.com/cuba/1683396764_46966.html
https://www.cibercuba.com/noticias/2023-05-18-u1-e208574-s27061-familias-cubanas-viven-condiciones-insalubres-edificio
https://diariodecuba.com/cuba/1683148003_46898.html
REPRESSION
https://adncuba.com/derechos-humanos/violento-asalto-al-adolescente-expulsado-de-escuela-cubana-por-motivos-politicos
https://adncuba.com/derechos-humanos/denuncian-golpiza-preso-politico-cubano-en-la-carcel-del-combinado-del-este
https://www.martinoticias.com/a/contin%C3%BAan-abusos-contra-presos-del-11j-en-las-c%C3%A1rceles-cubanas-denuncian-familiares/359539.html
Cuban journalists are being silenced, one mobile line at a time
https://diariodecuba.com/derechos-humanos/1684793316_47324.html
https://adncuba.com/derechos-humanos/periodistas-independientes-cubanos-sufren-censura-personalizada
https://eltoque.com/ley-comunicacion-controlar-expresiones-ciberespacio
https://diariodecuba.com/derechos-humanos/1683660177_46930.html
https://www.cibercuba.com/noticias/2023-05-10-u1-e43231-s27061-detencion-policial-violenta-provoca-indignacion-guantanamo
https://www.radiotelevisionmarti.com/a/nuevos-cargos-por-protestas-de-caimanera-seguridad-del-estado-detiene-a-otro-manifestante-/359642.html
Preso político Jorge Luis Boada Valdés, seis días en celda de castigo sin comer
https://www.infobae.com/america/america-latina/2023/05/21/el-regimen-cubano-recrudece-la-censura-periodistas-independientes-y-ongs-alertan-sobre-la-nueva-ley-de-comunicacion/
https://www.cibercuba.com/noticias/2023-05-21-u1-e43231-s27061-arrestan-sexto-manifestante-protestas-caimanera
Régimen cubano vuelve a negar visita familiar a José Daniel Ferrer
"No sé si mi hijo está vivo o muerto": madre de Caimanera pide ayuda
https://www.cibercuba.com/noticias/2023-05-09-u1-e208227-s27061-regimen-cubano-anuncia-juicio-contra-manifestantes-detenidos?utm_source=OneS&utm_campaign=OneS_Auto&utm_medium=push
https://www.cibercuba.com/noticias/2023-05-03-u1-e207888-s27061-vecinos-cierran-calle-protestan-paseo-prado-habana
https://www.radiotelevisionmarti.com/a/info-mart%C3%AD-no-hay-petr%C3%B3leo-no-hay-comida-no-hay-culeros-protesta-joven-en-la-habana/359548.html
https://www.cibercuba.com/noticias/2023-05-03-u1-e208227-s27061-abuela-cubana-muestra-porcion-pollo-libreta-nieta-verguenza
https://www.cibercuba.com/noticias/2023-05-04-u1-e199370-s27061-cubana-estalla-falta-ambulancias-hospital-habana-cuando
#SomosCuba
El joven camajuanense, Lorenzo Hurtado Olivera, sostuvo una pancarta radicalmente anticastrista en el frente d su vivienda cuatro días, ayer sobre la 8 pm fue arrestado e internado en Operaciones del DSE en Santa Clara. Su familia clama por su libertad, me sumo a ella. pic.twitter.com/2rCM9Olxgc

— Librado Linares (@linares_librado) May 5, 2023
https://www.radiotelevisionmarti.com/a/periodista-alerta-sobre-alto-descontento-social-en-cuba-es-el-sentir-del-pueblo-/358845.html
https://www.radiotelevisionmarti.com/a/caimanera-se-suma-al-mapa-del-descontento-y-la-rebeld%C3%ADa/358973.html
https://diariodecuba.com/cuba/1683549780_46994.html
https://diariodecuba.com/cuba/1683756719_47059.html
https://diariodecuba.com/cuba/1683878893_47087.html
https://www.martinoticias.com/a/vecinos-defienden-a-v%c3%adctima-de-violencia-policial-guant%c3%a1namo-se-est%c3%a1-cansando-afirman-(video)/359104.html
https://noticias.cubitanow.com/padre-cubano-ofrece-a-su-hijo-en-adopcin-a-alguien-que-viva-en-un-pas-libre-quiero-que-mi-nio-no-sufra-ms
https://www.cibercuba.com/noticias/2023-05-18-u1-e129488-s27061-cuentapropista-cubano-explota-situacion-pais-estan-gobernando
https://www.facebook.com/100035157011146/videos/936590370916032
https://www.facebook.com/lilianne.vega.3 sutura May 18
https://www.cibercuba.com/noticias/2023-05-22-u1-e199370-s27061-militante-comunista-cuestiona-al-gobierno-diaz-canel-crisis?utm_source=OneS&utm_campaign=OneS_Auto&utm_medium=push
https://www.facebook.com/search/top/?q=mexi%20savile%20oronite 05/22
Background
Díaz-Canel reconoce el escenario económico "extraordinariamente complejo" de Cuba
https://www.diariolasamericas.com/america-latina/cuba-gasta-16-veces-mas-turismo-que-educacion-salud-publica-o-agricultura-n5335281
https://www.diariolasamericas.com/america-latina/regimen-busca-fomentar-oligarquia-que-obedezca-sus-intereses-n5336166
94_4 7268 https://diariodecuba.com/cuba/16845168.html
https://www.periodicocubano.com/manuel-marrero-admite-crisis-alimentaria-en-cuba-y-culpa-a-la-gestion-privada-por-no-satisfacer-la-demanda/
Declaración de Cuba Siglo 21: Los rusos, el cambio fraude y la Nación
https://www.dw.com/es/mosc%C3%BA-no-cree-en-islas-cuba-vuelve-a-abrazar-al-oso-ruso/a-65701208
https://www.14ymedio.com/cuba/Republica-Diaz-Canel-incondicional-Cuba-Rusia_0_3535446421.html
https://www.cnn.com/2023/05/23/europe/russia-minister-dies-falling-ill-on-plane-intl/index.html
https://www.cibercuba.com/noticias/2023-05-24-u191143-e191143-s27068-vuelven-rusos-ay-miedo?utm_source=OneS&utm_campaign=OneS_Auto&utm_medium=push
https://diariodecuba.com/cuba/1684918471_47357.html
https://www.martinoticias.com/a/la-colonia-as%C3%AD-llama-el-pueblo-a-cuba-tras-nuevos-acuerdos-econ%C3%B3micos-del-r%C3%A9gimen-con-rusia/359919.html
https://www.14ymedio.com/economia/regimen-empenado-invertir-hoteles-turismo_0_3537846192.html
https://diariodecuba.com/economia/1684994583_47382.html
https://www.martinoticias.com/a/cuba-aprueba-ley-de-medios-con-enfoque-preventivo-ante-la-subversi%C3%B3n-seg%C3%BAn-d%C3%ADaz-canel/360675.html
https://diariodecuba.com/cuba/1685108410_47418.html
https://www.cibercuba.com/noticias/2023-05-26-u1-e208227-s27061-borrell-reune-privados-cubanos-mientras-elude-opositores
https://diariodecuba.com/economia/1685187450_47436.html
https://www.martinoticias.com/a/periodista-alerta-sobre-alto-descontento-social-en-cuba-es-el-sentir-del-pueblo-/358845.html
https://www.martinoticias.com/a/europa-silencia-la-realidad-de-cuba-denuncian-en-presentaci%C3%B3n-de-informe-sobre-la-tortura-/361155.html
                                                                                                                                                                                                                                                                                                                                                                                                                  OBSERVATORY OF CUBAN CONFLICT, MAY 31, 2023.
THE CUBAN OBSERVATORY OF CONFLICTS (OCC) IS A PROJECT OF THE FOUNDATION FOR HUMAN RIGHTS IN CUBA.